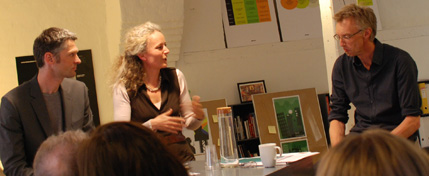 During Futures Week we were very proud to make our first presentation of our new project, the seminar series In100y. In the seminars, we will explore and create new scenarios for sustainability and growth in a hundred year perspective – quite a scope, even for futurist.
The project is supported by the VELUX FOUNDATION, who recently started funding in the arena of sustainable societies. "Velux has a threefold focus in the sustainable agenda: sustainable societies, ressource management and biodiversity. We put an emphasis on the need for new models, values and mindsets in the debate. While there are no easy answers, it is imperative that the questions be raised", says Helene Bjerre Jordans, Head of the Environment Program, VILLUM and VELUX FOUNDATION.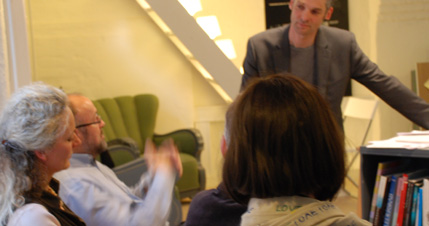 Søren Steen Olsen from House of Futures presented some preliminary results from the research process, and talked about how the problem has existed since the dawn of time. Hunters and gatherers needed to transform to agriculture to maintain growing populations, and Denmark  had it's own crisis  300 years ago. Societies have always had to find new ressources or ways of employing them to outgrow their boundaries. While earlier this could be remedied by bringing in ressources from outside, now that the problem has reached a global scale, more extensive transformation is required.
"Franly, we chose this 100 year perspective, because it's the only one that matches the challenge", says Søren.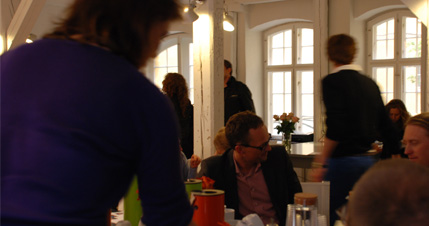 During the presentation, attendees where asked to come with their own proposals for the biggest changes, conflicts and perspectives for society in hundred years, and the answers where as diverse as the crowd (and will be posted to our blog, check back soon). One of the main challenges of the project will be the fusion of the many different approaches in the sustainability debate, but the uniquely long term perspective of the seminars may be of help here.
Presented with such a timeframe, experts are required to rethink their input. Their own data seldom reaches that far, so the contribution must come from their field as a whole and its particular approach. This strongly broadens the possibilities, and the opportunity is met with enthusiasm by researchers and practitioners alike.
We, for one, can't wait to get started!