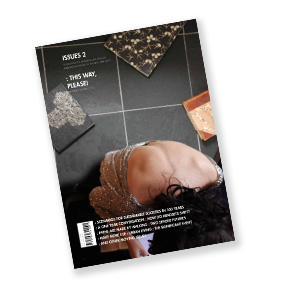 The magazine is available as pdf and you can order a free copy by sending an e-mail to hof@houseoffutures.dk with your name, organisation and postal address. Printed editions will be limited.
BACKGROUND AND CONTENT. The project "in 100 years – starting now" is focusing on big picture thinking about preferred futures for sustainable societies in the long run. On seminar 4 "It's our future, love!", held 18-19 January at Carlsberg Academy, 80 scholars, desicion makers, practitioners and other visionaries participated in the one-year conversation about preferred futures 2112. Get a sneak peak into the process and results of this seminar.
Read it as pdf.
Content:
Intro. Myth of Mellon. A story about transition. By Ole Fogh Kirkeby
Big picture thinking. Broadening the agenda of Sustainability and growth. Editorial by Steen Svendsen and Gitte Larsen
10 short stories about sustainability and growth. Industrial ecology/ Cradle to Cradle Denmark/ Samsoe's 2030 vision: Independent of fossil fuels/ Transition Towns/ Nature Rights – in Bolivia/ Novozymes in Africa/ The 4th Bin/ The People's supermarket/ Occupy Wall Street/ The Future We Want
SCENARIOS TOWARDS 2112. PREFERRED FUTURES FOR SUSTAINABLE SOCIETIES IN 100 YEARS.
Welcome to the futures
Baseline scenario. Building blocks for long-term preferred futures.
Introduction to the two scenarios.
Man-made world. The light-toch society.
Power of nature. Living in oneness.
Overview of the scenarios.
This way, please! How to use the scenarios.
FACTS ABOUT THE project 'in 100 years'
A one year conversation
Shortcut to the 'In100years' project
The Core Group
Future Mind Tours – 4 tailor-made performance installations of In100y
In100years: productions and findings.
A la carte articles
Living in a time of transformation. By Søren Steen Olsen
Concepts of sustainability. By Søren Steen Olsen
Release our resources, make more use. By Dominic Balmforth
Paths are made by walking. Interview with Martin Lidegaard, Danish Minister for Climate and Energy. By Søren Steen Olsen and Steen Svendsen
How do mindsets shift? By Ole Fogh Kirkeby
Performing the future. Experimental futures studies. By Gry Worre Hallberg, Madeleine Kate McGowan, Inge Gerner Nielsen and Gitte Larsen
The Transformative Impact of Future Mind Tours. By Inga Gerner Nielsen and Gry Worre Hallberg
Biology towards 20112: DEALING WITH THE UNKNOWN. Interview with Professor of Biology Carsten Rahbek. By Steen Svendsen
Time with time. Interview with Martin Manthorpe, NCC Denmark. By Flemming Wisler
Sensing the future. By Inga Gerner Nielsen
Taste the new mindset. Interview with amongst others Carla Cammilla Hjort. By Madeleine Kate McGowan
Urban minds. By Dominic Balmforth
Narci-city or Theatrum Mundi? The urban stage of the future. By Andrew Todd
Wisdom Council. By Gitte Larsen
The significant event. Establishing universes, creating movements. By Gry Worre Hallberg
Comments
THE NEW WORLD CITIZENS. By Steen Hildebrandt
Let it become! By Rasmus Ejrnæs
HAPPY NATIONS. By Dr. Saamdu Chetri
A TRULY HOLISTIC CONCEPTION OF NATURE. By Hans Fink
100 Years Reflection. By Joseph Bragdon
A Letter for the Hopeful Inhabitants of the Anthropocene. By John Fullerton
Achieving sustainability. By Kathrine Richardson
The last 100 years: looking back from 2112. By Hardin Tibbs
Fuel the future by the power of the imagination. By Minik T. Rosing
SUSTAINABILITY – EACH GENERATION'S RESPONSIBILITY. By Peder Andersen
A respectful view of nature. By Ole Jensen
Be the change! By Camilla Bjerre
Renewal Through "commonality communities". By Malene Annikki Lundén and Søren Hermansen
A new lifestyle. By Thomas Færgeman
The solutions generation. By Robert Costanza
A vision of life in 100 years in the city of 'acorn falls'. By Wendy L. Schultz