Books co-created, written, edited or designed by one or more of the founding and working members of House of Futures.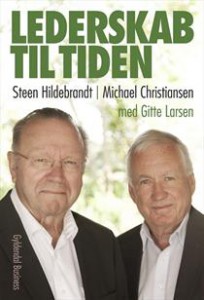 Lederskab til tiden
af Steen Hildebrandt, Gitte Larsen og Michael Christiansen
Køb den. Anmeldelser: JP, Berlingske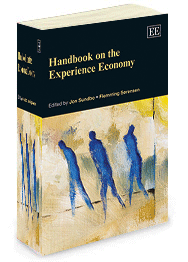 Handbook on Experience Economy
This illuminating Handbook presents the state of the art in the scientific field of experience economy studies. It offers a rich and varied collection of contributions that discuss different issues of crucial importance for our understanding of the experience economy. Each chapter reflects diverse scientific viewpoints from disciplines including management, mainstream economics and sociology to provide a comprehensive overview. Buy it.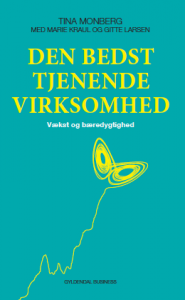 Den bedst tjenende virksomhed
Af Tina Monberg med Marie Kraul og Gitte Larsen, Gyldendal Business, 2013. Den bedst tjenende virksomhed forstår at tjene andet og mere end penge. Den tjener også de mennesker, det samfund og det miljø, der omgiver den. Ledere og medarbejdere i den bedst tjenende virksomhed forholder sig aktivt til den sammenhæng, de er en del af. Det handler om visioner, om alternative måder at organisere og lede virksomheden på og om at turde bryde med normer og traditioner. Bogen viser en vej ud af de gamle og nedslidte siloer og hen til de fleksible platforme, hvor alle arbejder sammen om at skabe bæredygtig vækst, der bygger på sund fornuft og naturens eget design. I både danske og udenlandske eksempler hører vi om virksomheder, der skrotter budgetter, decentraliserer, åbner for reel selvledelse og gør en forskel i deres omverden. I bogen kan du læse interview med Michael Møllmann fra Novo Nordisk, Hanne Lindblad fra Call me, Jan Wallander den tidligere direktør i Handelsbanken, Thomas Harttung der er stifter af Årstiderne og Jan Carlzon, den legendariske chef for SAS. Se indhold og læs forordet. Læs anmeldelser: JP, Djøf, Berlingske.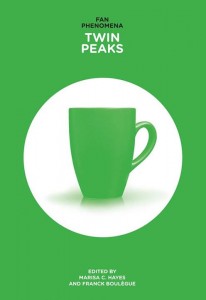 Fan Phenomena: Twin Peaks is the first book of its kind to revisit David Lynch and Mark Frost's groundbreaking television series (1990-1991) and explore how the show's cult status continues to thrive in the digital era. Divided into ten essays, this volume takes a deeper look at Twin Peaks' rich cast of characters, iconic locations, profound impact on television programming, as well as how new media and fan culture have allowed the show to flourish well after its initial release. Written by fans for fans, Fan Phenomena: Twin Peaks is intelligent yet accessible as it guides readers through various aspects of the show (and subsequent film), featuring commentary from both first generation and more recent followers. From Audrey Horne's keen sense of style to Agent Cooper's dream psychology, these essays capture the endlessly fascinating universe of Twin Peaks and its fandom. Buy it.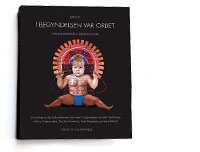 I begyndelsen var ordet
Kommunikationens verdenshistorie
En antologi om det 64 kvadratmeter store vægmaleri I Begyndelsen Var Ordet med bidrag af bl.a. Christian Have, Troels Mylenberg, Madeleine Kate McGowan og Hanne Reintoft.Læs mere om bogen. Forfatter: Jørn BiePublisher: House of Futures Press, September 2011 (in Danish only)Bogen koster 250,- og kan bestilles på hofpress@houseoffutures.dk eller på SaxoSagt om bogen:"Jørn Bies maleri I Begyndelsen Var Ordet er en gave til menneskeheden. Det er stort på alle mulige måder, og med bogen kan du dykke ned i det og blive klogere." Erland Kolding Nielsen, direktør Det Kongelige Bibliotek.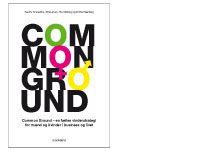 COMMON GROUND Common Ground is the dream for a new future for men and women. It's a new way to consider leadership, business and work life by asking what it would mean if there were balance and synergy between the masculine and feminine competencies and energies. What would it require of us, and what would it give us. Common Ground bridges the opposites we experience in work life, leadership, and business today, and which prevents people to live in mutual respect, and the book presents guidelines for a better future for all of us. Authors: Sascha Amarasinha, Gitte Larsen, Tina Monberg, and Dorthe SteenbergPublisher: Schønberg, August 2009 (in Danish only) Web: www.commonground-online.com Said about the book:"Common Ground er et nødvendigt udgangspunkt for mennesker, ledere og virksomheder, når det er vigtigere, hvad vi kan sammen end hver for sig. At tænke i helheder er en af de største udfordringer i erhvervslivet i dag." Jens Moberg, CEO Better Place Denmark og forfatter til Rettidig omsorg.

Dansk gadekunst. Dansk gadekunst er det hidtil største og grundigste værk om gadekunst på dansk. Bogen er ikke en afdækning af gadekunst fra a til z, men en samling af tematiske artikler, interviews og naturligvis et hav af fotografier, der kommer bredt omkring gadekunsten. Læs mere om bogen. Læs pressemeddelelsen.Bogen er på 440 sider med håndtrykt smudsomslag og koster 299,95 og kan bestilles i boghandlen eller købes direkte via www.kopenhagenshop.dk.For yderligere information, interviews og kontakt til kunstnerne: Lasse Korsemann Horne via lasse.horne@hoerbuch.dk eller 2579 5317. Flere bøger har håndtegnede smudsomslag lavet af de medvirkende kunstnere. Disse bøger kan købes ved direkte henvendelse til lasse.horne@hoerbuch.dk. Læs Gry Worre Hallbergs indlæg: Crack my world!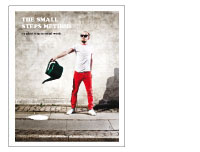 THE SMALL STEPS METHOD Small Steps Method is the first comprehensive description of the method used by activity center leaders and employees in Denmark's 100+ activity centers (væresteder, ed.). The method builds on the experiences gathered over more than ten years, and the method is an observation of what works in practice when it comes to social efforts toward socially marginalized people. Authors: Cliff Kaltoft, Ulrik Korff, Søren Steen Olsen, Steen Svendsen, and Gitte Larsen (ed.)Publisher: Landsforeningen af VæreSteder, April 2009 (in Danish), and November 2009 (in English) Order a free copy by sending an e-mail to infolvs@mail.dk.
 Cover by mush room
Theatre-in-Business, udfordringer og potentialer"Bogen samler den nyeste forskning inden for Theatre in Business feltet i danmark. Ud fra teatervidenskabelige teorier, metoder og forskellige former for udvikling sætter antologien fokus på, hvad der er gjort af forskningsmæssige opdagelser i feltet de seneste år. Ud over at gøre status behandler antologien også det fremadrettede perspektiv: hvor er feltet på vej hen? For tanken om teater som mulig strategi eller redskab til overkomme organisationers udfordringer er ikke spritny i Danmark – derfor undertitlen udfordringer og potetialer.red. Theatre-in-Business, udgivet ved Teater- og Performance Studier/IKK, KU i 2011. Køb bogen her.<

ALL DRESSED UP, BUT NOWHERE TO GO Welcome to a world in which companies and media have the power. They are the world's number one storytellers, and teach us it is more important to look good than to be good. All Dressed Up Inc. is the voice of consumer capitalism and a description of the mainstream market culture that dominates our lives. Is there an alternative? Yes, there is!Authors: Gitte Larsen and Thomas Geuken, Copenhagen Institute for Futures StudiesPublisher: Gyldendal, August 2007 (in Danish only)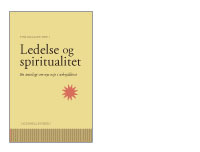 LEDELSE OG SPIRITUALITET (Leadership and spirituality, ed.)Mindfulness, NLP, coaching, antroposofi og zenmanagement, yoga og meditation … Medarbejdere på mange forskellige slags arbejdspladser bliver i disse år mødt med spirituelle tanker og teknikker til at mindske stress, øge den personlige effektivitet og forbedre arbejdsklimaet. Samtidig bruges spirituelt betonede argumenter i debatten om bæredygtig udvikling og virksomhedens sociale ansvar. Men hvilke følger har det for arbejdslivet? Hvordan påvirker spiritualitet ledelse og omvendt?Bidrag til antologien fra bl.a. Viggo Mortensen, Peter Pruzan, Steen Hildebrandt, Kirsten Marie Bovbjerg, Karen Lisa Salamon, Jørn Borup og Gitte Larsen.Author: Tina Magaard (ed.). Last chapter by Gitte LarsenPublisher: Gyldendal Business, February 2010 (in Danish only)***** Five stars out of six in the Danish daily newspaper Politiken.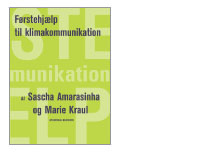 FØRSTEHJÆLP TIL KLIMAKOMMUNIKATION Klima er på dagsordenen – i virksomhederne, privat og politisk. Forventningerne til ikke mindst virksomhederne er store, men mange kommunikerer faktisk slet ikke om deres klimaaktiviteter. Måske fordi de ikke ved, hvor de skal begynde? Førstehjælp til klimakommunikation giver råd og vejledning til dig, der skal formidle virksomhedens klimavenlige og grønne tiltag. Authors: Sascha Amarasinha and Marie KraulPublisher: Gyldendal Business, June 2009 (in Danish only)Web: www.klimakomm.mono.netSagt om bogen:Endelig et overblik, som skaber mulighed for 'hands on', så man kan komme i gang med det, som ligger lige for næsen af en og venter." Søren Ejlertsen, Aarstiderne