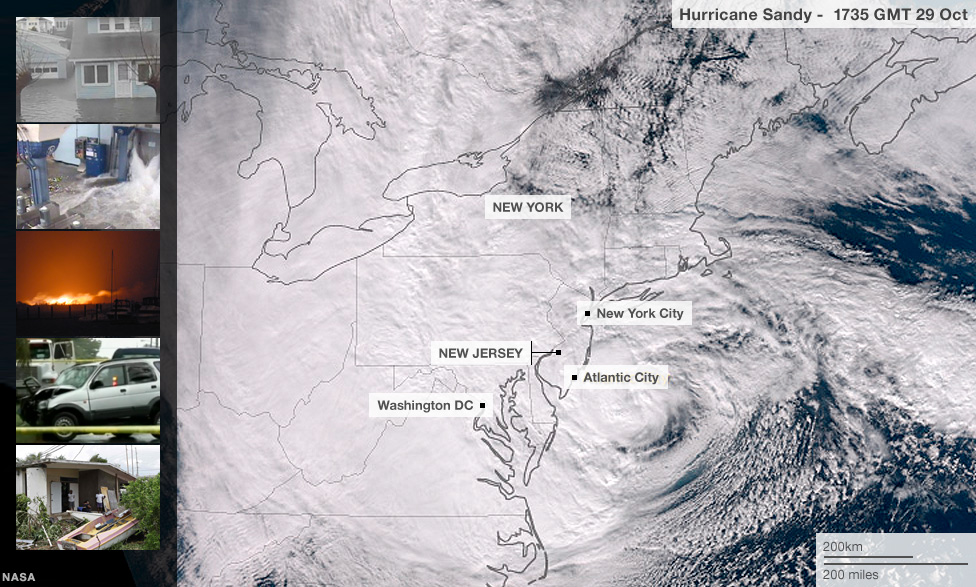 Orkanen Sandy hærger USAs atlanterhavskyst. Hvis den hærgede Europa, ville den se ud som på billedet (hentet fra BBCs hjemmeside). Stort set hele Vesteuropa ville være i skudlinien på en og samme gang. Så galt gik det ikke denne gang, men hvad med fremtiden?
I vores In100Y-projekt var de menneskeskabte klimaforandringer helt centrale, og en af de ting, der blev nævnt, var, at den globale opvarmning skaber en stigende hyppighed af ekstreme vejrfænomener. Den mest autoritative kilde på klimaområdet, IPCC, udgav i dette forår en rapport om netop ekstreme vejrfænomener. IPCC er ofte blevet udskældt af klimaskeptikere for at overdrive klimatruslen. Og rapporten peger også på, at der med stor sandsynlighed vil være flere ekstreme vejrsituationer i fremtiden som følge af den globale opvarmning. Det gælder f.eks. flere og længere tørkeperioder og flere ekstremregn-episoder. Men læser man denne rapport, er det mest gennemgående træk en betoning af, hvor stor usikkerhed, der er, fordi ekstreme vejrfænomener pr. definition er sjældne og uregelmæssigt forekommende. Derfor er der endnu alt for få observationer til at vurdere, om vi ser en systematisk stigende hyppighed, eller blot en tilfældig variation.
Alligevel vover rapporten nogle hundredårs-vurderinger af, hvordan frekvensen af ekstremvejr vil udvikle sig som følge af den globale opvarmning. Det vurderes som sandsynligt, at orkaner vil blive voldsommere i styrke. Til gengæld vurderes det, at de bliver mindre hyppige. Det sidste blev jeg personligt lidt overrasket over.
I en opsummeringstabel hedder det om eksemplet "Increased losses from hurricanes in the USA and the Caribbean":
"Observed [siden 1950]: Low confidence in any observed long-term (i.e., 40 years or more) increases in tropical cyclone activity, after accounting for past changes in observing capabilities.
Projected [frem mod 2100]: Likely that the global frequency of tropical cyclones will either decrease or remain essentially unchanged. Likely increase in average tropical cyclone maximum wind speed, although increases may not occur in all ocean basins.
Heavy rainfalls associated with tropical cyclones are likely to increase. Projected sea level rise is expected to further compound tropical cyclone surge impacts. "
Hvad skal man så mene om det? At der er al mulig grund til at modvirke den globale opvarmning og dens konsekvenser. Tørke, ekstremregn og vandstandsstigninger er meget sandsynlige. Men lige netop Sandy er ikke nødvendigvis  noget udtryk for den globale opvarmning – ifølge IPCC-rapporten altså.