The Poetic Revolution is a global movement that Fiction Pimps are a part of.
This weekend they have created the first manual for The Poetic Revolution – The Manual on How to Become a Poetic Revolutionary together with poetic revolutionaries from among other Argentina, United Kingdom, New York City, Prague, Germany and Australia.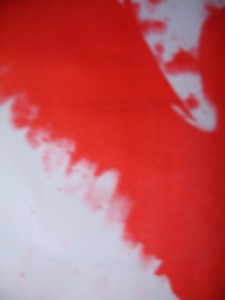 Done by Poetic Revolutionaries
June 18th 2011
We invite you to wear your poetic gaze!
Now, imagine a gulf of transition. It can take many shapes and forms: A tunnel, a bridge, a storm, the ocean, the hurricane, a feather, a candle, a desert, a volcano…
You choose your image. Spin your image.
Is this image dangerous, embracing, confronting, provoking, beautiful, light…? You decide with what gaze and gesture you want to initiate your journey to become a poetic revolutionary.
When you have your image we can proceed.
BUT
Before we do our entrance into this transformative journey there are some pre-conditions that you should be aware of.
THE ETERNAL WARNING
x. Make sure that you are in a comfortable place and ready to dive successfully into your poetic state of mind. If this is not the case right now, consider revisiting this manual at another time.
xx. Remember to ask questions – that will keep you reflecting upon yourself and the situations occurring related to the notion of a Poetic Revolution.
xxx. Prosaic revolutions are very seldom transparent – We want The Poetic Revolution to be transparent.
xxxx. Prosaic revolutions very often end up in terrorism. The Poetic Revolution will not, because we do not prescribe how other people should live their lives.
STEP 1. Gazing at the initiator
Now we are turning our gaze at the ones already initiating poetic situations.
To those we say:
Create situations that evoke the sensibility and strengthen the sense of responsibility in each participant.
Tap into the desire of the participant by really sensing the other person and by letting the other person sense you.
Check in to see if engagement has occurred.
Remembering that engagement takes many forms and shapes – silence, action…
STEP 2. GAZING AT THE PARTICIPANT
Now we are turning our gaze at the ones becoming engaged in poetic situations initiated or created by those above.
To those we say:
Be brave. Facing your fears can be as simple as reaching out to touch a stranger's hand.
Return to curiosity and wonder.
Become aware of what you experience in this very moment.
Encapsulate and then free your mind.
STEP 3. the transition
On the other side of this threshold, you will start using The poetic gaze consciously to activate poetry in your everyday life.
Conquer the reserve that is so inherent in this society – the lack of engagement with poeticism with sensuality with self-expression.
Turn everyday action into poetic activity.
Start spreading the word, and repeat initiatingg new journeys for yourself and others to venture. Let the non-existent become existent trough an elevation of the poetic gaze in everyday life.
To strengthen the poetic gaze is the experience of the world as poetic instead of functional.
STEP 4. the participant Becmoming an initiator
Go back to step 1.
Suggestions on how to activate your poetic self
Go to a place you pass through everyday.
Dwell.
Situate yourself in a way or manner that compliments your mode of being this very moment.
Close your eyes and listen to every detail around you.
New day.
New choice.
Find some way to restrict your hearing.
Look.
Touch every detail of the scene with your gaze.
Anything is possible.
Trust your instincts.
Act.
The poetic revolutionaries that begun this process of creation on manulas are:
Club de la Faye
Collective Unconscious
Erika Fischer-Lichte
Fiction Pimps
Hellen Carr
Hijas del mal
Sisters Hope
Time and space died yesterday