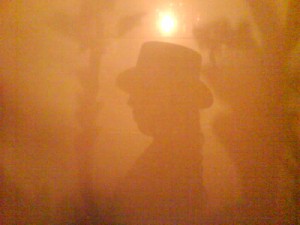 Den canadiske politiske filosof og socialteoretiker Brian Massumi, der også af en af folkene bag Sense Lab, der netop sætter fokus på sanselighedens betydning, bl.a. for betydningsfuld videndannelse, argumenterer for at meningen med livet er, at opleve intensiveret nærvær. Det sker ifølge ham, gennem gensidige påvirkningscykluser; des mere vi er i stand til at indgå i affektive møder, des mere intensitet tilføres vores liv. Det er i denne intensitetsforøgelse, at der kan brydes med konformerende strukturer og åbnes for et liv levet i mellemrummene – i interstice – i rillerne i magtstrukturerne.
I Mary Zournazis konversation med Massumi som denne redegørelse bl.a. er baseret på, er omdrejningspunktet 'Hope' og hvor håbet er placeret i dag. Hos Massumi er dette håb placeret i deltagelsen: "… your participation in this world is part of a global becoming. So it's about taking joy in the proces whereever it leads … it's a desire for more life, or for more life". Muligheden for intensiveret nærvær i det relationelle kunstværk handler dermed om, at overgive sig til dets parallelunivers – dets mellemrum, og dermed indirekte forholde sig konfronterende til det eksisterende.
Denne holdning er ikke fremmed for æstetikken, der siden den opnåede sin status som autonom, ofte har betragtet sig selv som værende i opposition til det eksisterende. Som autonom har kunsten ikke skulle stå til regnskab for sine handlinger, og med tiden har det, som vi har set ovenfor, gjort kunsten til et frirum, hvorfra det etablerede kan kritiseres. Men en ny tendens er  gang, hvor dette frirum ikke betragtes som eksklusivt og forbeholdt 'kunstneren' eller 'kunstgeniet' – alle inviteres ind i det. På arbejdspladsen, på shoppingturen, i gadeaktivismen  skabes der aktivt og bevidst mellemrum, riller i de gældende magtstrukturer, hvor en anden type væren og samværen end den dagligdags kan få plads.